Is Google Business Profile MORE important than a website?
Depending on what vertical your business is in, Google My Business (GMB) very well might be more important than your website. It totally depends on what industry you are in, but no matter what that might be the value of GMB deserves your attention when it comes to digital marketing and online success. If you're in charge of bringing in new customers, this article is for you. We pull data and analytics from numerous reliable resources, so let's jump in!
Google doesn't want to send people to your website if they don't have to.
Pretty greedy, right? It's true. They're trying to provide people the best information in the fastest way. Life was so simple when Google would serve up 10 blue links with a few ads and let you click based on organic search results. Google has completely de-prioritized organic search results in favor of ads and what are known as "No Click Searches". What is a No Click Search?
No Click Search: Instances where people are searching on Google, only to get the information they need without needing to visit a website.
Google knows they can only get so aggressive with their ads and how they prioritize them with the rest of the organic results. What they continue to get better at is keeping you on the search results page until you click an ad. You've seen this a lot already, but here's some quick samples: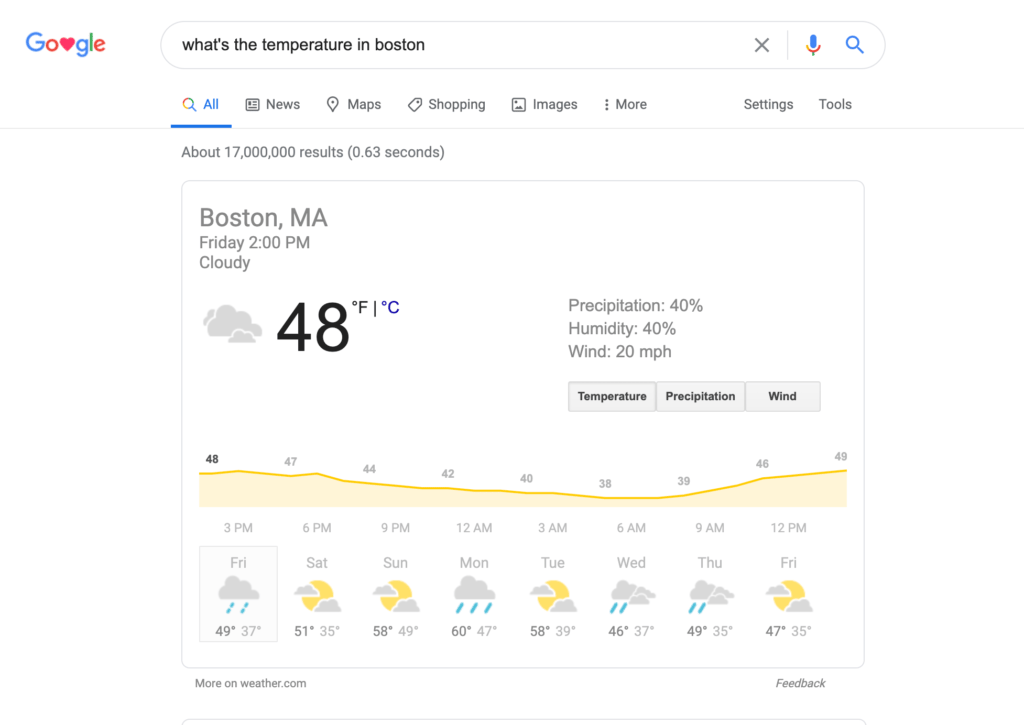 Simple things such as weather pulling from Weather.com (without going to their website)

Specific event dates/times are easily found without going to websites.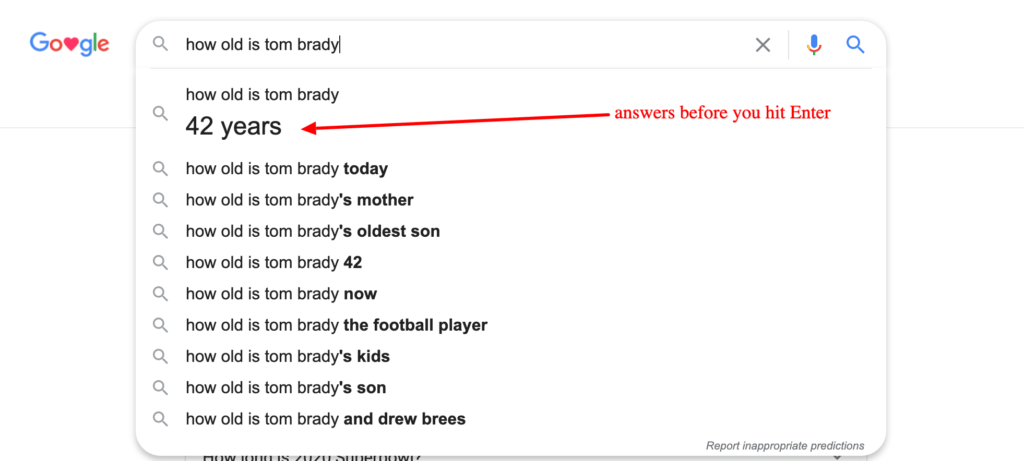 Even Wikipedia data can be pulled without even hitting 'Enter' on the keyboard!
These samples may seem harmless and they are, but pivoting slightly… this is affecting local businesses drastically!
No Click Searches now account for 47% of all search queries.
Obviously Google wants to provide as much value as possible within search results, but if they can't give you that answer you're looking for then it's more likely that you'll click on an ad (so they continue to generate that ad revenue via Google Ads).
This next slide was taken directly from one of Rand Fishkin's (CEO & Co-Founder of Moz) keynotes.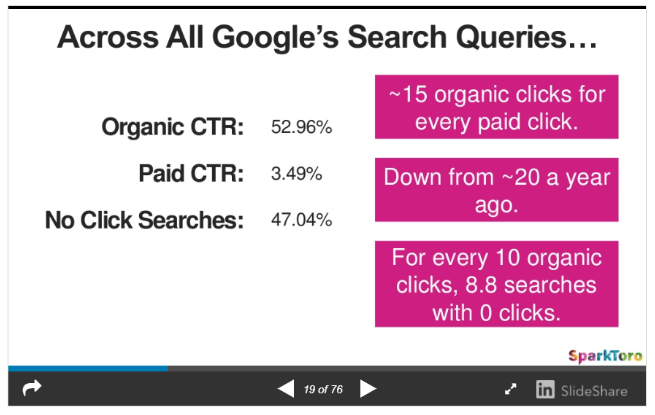 This is where you should start to have that 'oh shit' moment 47% of traffic that could've been coming to your website are now getting their answer and carrying on their merry way. That traffic is simply gone. Business owners need to think more and more about paid advertising as their organic search results getting pushed lower and lower on the results page. Aside from the tradition organic battle with your competitors, you're now battling No Click Searches as well!
A huge differentiator is how this changes when it comes to different devices. Due to the small screens on mobile devices, No Click Searches are now accounting for over 60% of searches in some cases! The priority of ads goes up even more for mobile!
When ads are followed by Google's efforts to keep users from clicking on organic results (answer boxes, etc) it turns into even more No Click Searches. The following sample shows the search results for "mortgage rates boston" where you can segment the results into three sections:
No Click Searches
Organic Results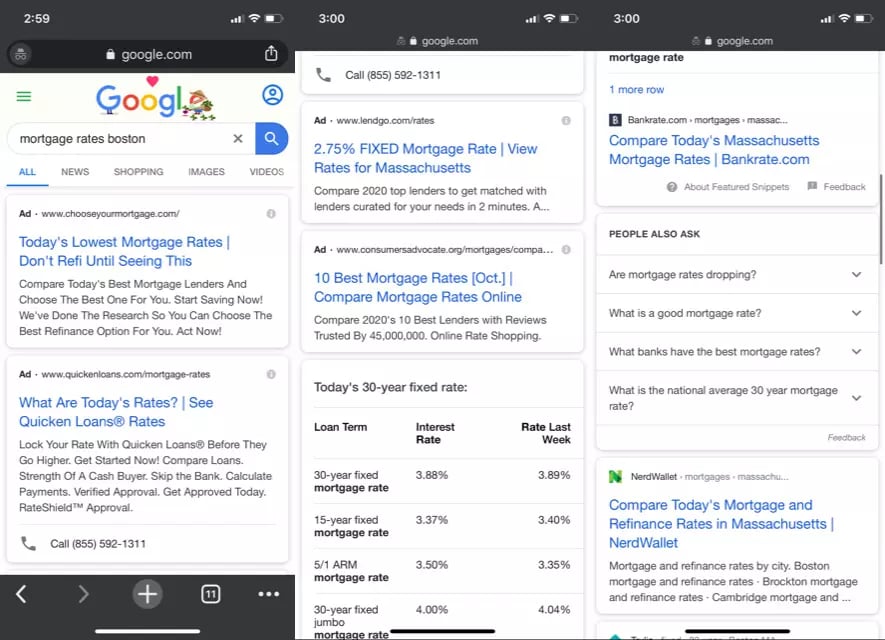 It's clear the organic results are completely taking a backseat as they're three full mobile screens down. People do tend to love scrolling on social media, but not so much when they just want an answer or resource. When this is the case, you need to work on your SEO results, especially on mobile!
Because of this, more and more business who have great organic results are seeing less organic traffic when reviewing their Google Analytics.
Enough of your website traffic… Time to work on Google My Business!
Google My Business has been around for awhile, but it's pivoted numerous times (before No Click Searches were even a thing). You could be not paying attention to your GMB page because you may have been lost in the name changes or not even knew how much you could do with your listing. You may remember some of these names:
Google Places
Google Maps
Google+
Google Local
Google Business
GMB has grown in prominence on how/when these listings show up in search. If you're still with me here, it's pretty clear that Google has gotten "greedy" with their traffic, but it's also putting the customer first in what they find value in. They don't want to send traffic to you unless (1) they don't have the immediate answer, or (2) you're paying them! So whats' better than fighting a losing battle vs Google? Using their platform GMB to improve how you show up on local searches.
I'm not saying you need to totally pick a path here between:
Going old school and relying on organic search results, OR
Focusing all your time into Google My Business.
You really need to do both as they all play into the authority of how strong your business is online.
Don't take my word for it. Here's what some industry leaders are saying:
1. Hubspot: 46% of all Google searches have a local intent.
That's roughly 1.6 billion searches per day where people are looking for a product, service, or information in their local market.
2. STAT Analytics: 93% of local searches now feature Google My Business listings.
People use Google every single day and the majority of those feature GMB in the results!
3. Search Engine Land: 68% of people contact a business directly from search results.
If this is on mobile (which is about 50% of all web traffic), then the user just needs to hit a call button or phone number and they're talking to you,

or a competitor.
4. Forbes: 88% of people trust online reviews as much as personal recommendations.
Too many businesses stop their process once the cash hits the bank account. One of the most important pieces to driving more business is closing that loop and asking for a review. Positive reviews bring in new business. Negative reviews make you look in the mirror at how your business runs.
These 4 pieces of data clearly show the important of Google My Business, so I hope you're onboard with us now!
It's all about reviews these days…
Looking at reviews is part of any buying experience these days whether it's Google, Amazon, or another 3rd party review site. People typically aren't going to roll the dice without recommendations from a personal connection or online communities.
People aren't dumb. They don't care how much you toot your own horn and how you're "the best" or "voted #1." Businesses make that stuff up all the time, OR sometimes they pay to be voted #1 or win an award. How honorable is that?! Paying for an award to trick potential prospects? People are smarter these days and want to hear it from other people like them. Social proof!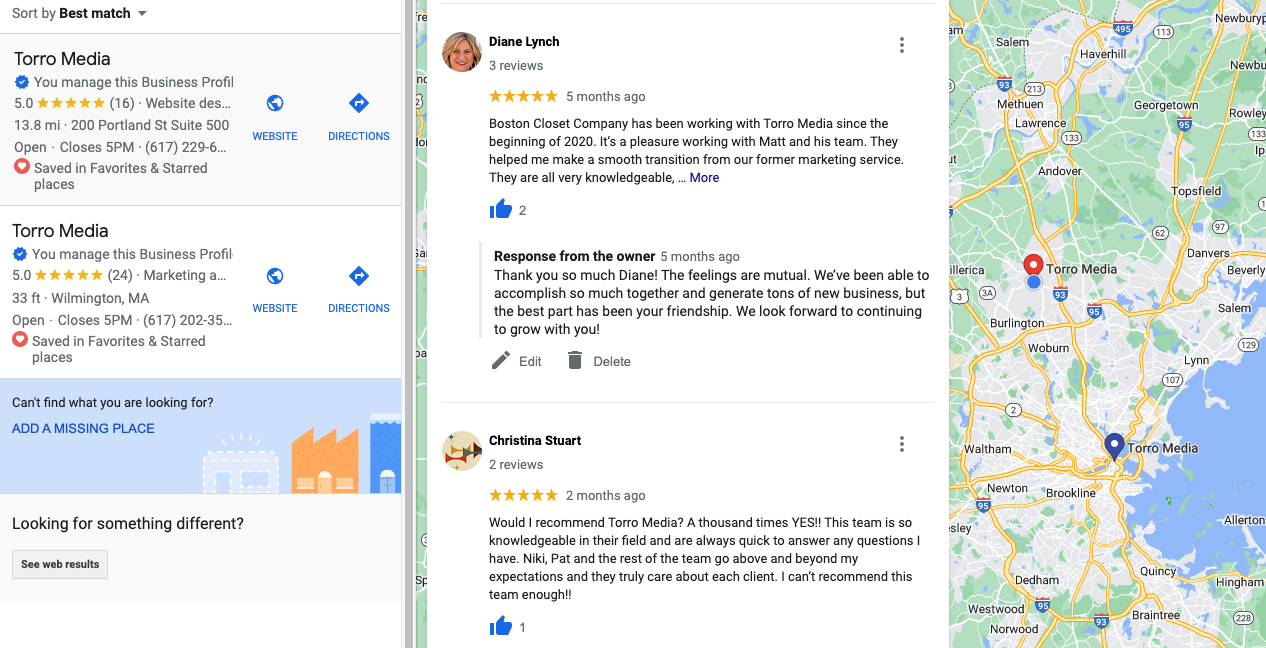 Google is investing BIG into Google My Business
Google My Business is clearly a home run for the company as they continue to invest in it and make more and more improvements. In 2019, they started shutting down their own social platform Google+ which was their third attempt at a social media platform. Other failures:
Google knows they can't compete with Facebook, Instagram, etc… They've thrown in the towel there. They are focusing on their one thing: SEARCH. Searching for product, information, and services is what they do and continue to get better at.
If you thought Google My Business was just a pin on a map with your business than I'm guessing you didn't know that over the last 12 months GMB upgraded the following features:
Posts (like a blog or similar to social media)
People can ask questions (where anyone can answer them publicly)
Messaging (similar to Live Chat or Facebook Messenger, but through Google)
Appointments: Customers can book appointments directly through the GMB Listing
In Summary…
I don't want to set off alarms that you need to completely rethink your business, however I am saying you need to put your Google My Business listing towards the top of the list. If I was in the hospitality industry, I would make this as important as Instagram in my marketing efforts. If you post to Instagram, post to Google My Business as well. It supports photos, videos, and text like any other social media platform.
If you haven't claimed your Google My Business Listing yet, here's a link. Go do that right now!
Let us know if you have any questions! Always here to help!