WordPress vs HubSpot: Which CMS is Right For You?
In the battle between WordPress vs. HubSpot CMS, how can you know which one is the best choice for your business?
If you are in the process of launching a new website or revamping your current one, you may be considering switching to a new content management system. As a marketer, it's always a good idea to rethink your way of working, considering new processes and systems that will enable you to reach your customers more effectively. The proper CMS is crucial in growing and scaling your business.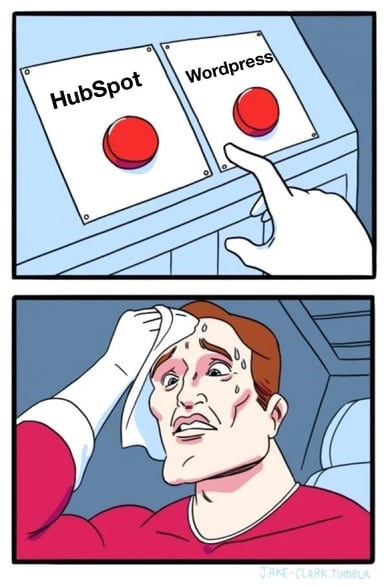 But when it comes to websites, there are so many platforms available to you, each offering a different range of benefits to businesses. But with this enormous range of choice, this can make the decision process a little overwhelming!
A good content management system will allow you to take your entire digital marketing strategy to the next level, supercharging lead generation, content, SEO, and data analytics to the next level. But it's essential you make the right decision in order to avoid expending unnecessary time, money, and hard work, on a platform that doesn't meet your needs.
WordPress and HubSpot CMS are two of the most popular content management systems currently on the market. But what is the difference between the two systems? After all, they are both platforms for hosting websites and managing content. Surely they can't be that different, right?
Wrong! Although they do offer many of the same features and benefits to marketers, there is a world of difference between the two. The following guide takes a detailed look at the two systems and everything they offer, allowing you to make a full comparison to inform your decision. Read on to learn more.
What is WordPress CMS?
WordPress is the most popular content management system out there, used by more than 60 million active websites. This amounts to around 43.3% of all websites on the internet - a staggering figure. WordPress originated in 2003 as a dedicated blogging platform, but in the subsequent decades involved a more holistic content management system, allowing marketers to build their websites, run ecommerce businesses, and establish loyal customer bases for their brands.
As the most well-known and popular content management system, it is understandably cost-effective and easy to use. The content creation tools are intuitive, and WordPress provides plenty of support for businesses and bloggers in the process of setting up and managing sites.
The WordPress platform is often installed on servers with third-party hosting services like WPEngine, Kinsta, or GoDaddy doing all the heavy lifting in terms of hosting. We also offer our own Wordpress hosting that lives on Cloudflare and Google Cloud (and it's extremely fast). However, WordPress does also offer complete capabilities, allowing users to run their websites from one single platform.
What is HubSpot CMS?
The HubSpot CMS came about a few years later than WordPress, founded in 2006 by creators Brian Halligan and Dharmesh Shah. HubSpot is an "inbound marketing" company, who made waves at the time by rethinking the way marketers work. Rather than relying on the traditional "outbound" methods of cold-calling and direct marketing, HubSpot promoted a more organic way of reaching customers, drawing them in through quality content and tailored experiences.
At their core, they offer marketers use of their HubSpot Content Management System. Designed to help businesses expand their customer bases and grow in size, the CMS package is currently used by over 158,000 businesses across more than 120 countries.
HubSpot CMS is a cloud-based platform whose functionality revolves around content creation, blogging, and website building. But its functionality goes well beyond that of WordPress, in that Hubspot CMS Hub provides an all-in-one solution to a business's marketing needs. As well as being a content management platform, it is also a customer relation management system, a social media management tool, and features comprehensive analytics functionality. The platform comes in a range of different packages to suit the varying needs and budgets of the businesses that use it.
WordPress vs. HubSpot: A Side-by-Side Comparison
We've had an in-depth look at the differences and similarities between WordPress and HubSpot CMS, but which content management system is better? Let's take a deep dive into the primary features of the two platforms to see which one comes out on top in each area. This comparison will enable you to determine which CMS is the best one for your specific needs and budget, and take your digital marketing into the future.
Let's get started!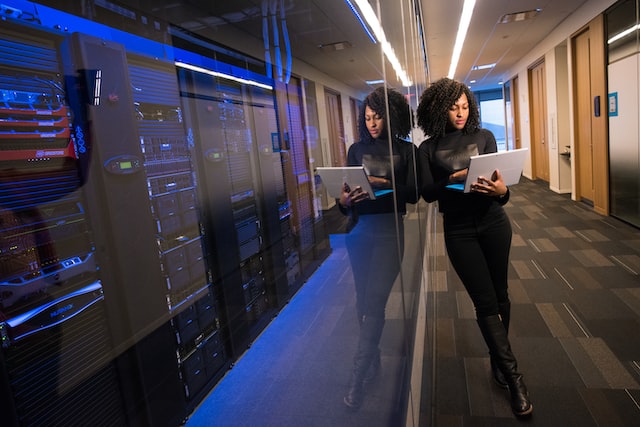 1. Website Hosting
Both WordPress CMS and HubSpot CMS provide users with a secure and reliable platform to build and manage their company websites. But their approach to web hosting is very different. Hosting is important for marketers because it provides them with the facilities to not only create an effective website for their brand, but also the capacity to store data and files that will be accessible to web users whenever they visit the site in question.
WordPress:
WordPress is primarily a content management system, rather than a web hosting platform. There are several web hosting providers available online, of which the most commonly used are WPEngine, Flywheel, Kinsta, GoDaddy and DreamHost. Most WordPress users need to use third-party hosting from one of these companies in addition to the CMS platform.
There is an option for a free, fully-hosted WordPress service instead, although this comes with a lot of limitations and is not suitable for businesses. The fully-hosted WordPress service does not allow users to create their own domain names, and has restrictions on the amount of customization allowed. It will also display ads and appear lower in the search engine rankings. As such, it is a service targeted at casual bloggers rather than growing businesses.
For your marketing needs, you will likely need to use a third-party web host as well to install wordpress themes.
For planning purposes, good Wordpress hosting is $30/mo on average (including SSL Certificate).
HubSpot CMS Hub:
On the other hand, HubSpot CMS provides the complete package. The tool comes with its own premium hosting features, enabling marketers to host, build, and manage their websites from one single platform. It is a Software-as-a-Service (SaaS) package including enhanced security functionality such as SSL certificates, firewalls, and threat detection. Many of these premium features are not included in the WordPress package, and the convenience of the single platform makes HubSpot the more desirable option.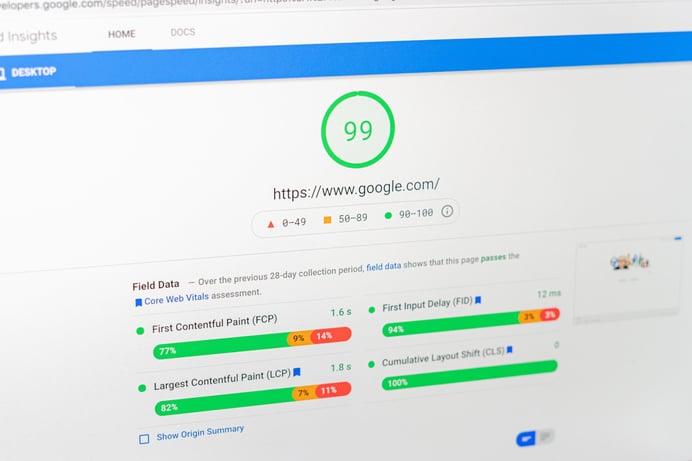 2. Search Engine Optimization
68% of all online experiences begin with a search engine query. Google, as well as other search engines, have an incredibly important part to play when it comes to your website content, and you need to be thinking about your SEO strategy at all times. Your website must be optimized to appear highly in the search engine rankings, otherwise it is less likely to be seen by your target audience. This is achieved through a variety of techniques including keywords, site structure, page speed, mobile optimization, meta data, and many other strategies.
Both WordPress and HubSpot CMS provide tools to help your website's SEO.
WordPress:
Many WordPress users rely on popular plugins called Yoast SEO or Rank Math to assist them with their search engine optimization needs. These tool comes with a range of features and insights to design to boost your website to the front page of Google. It offers keyword optimization for your web content, as well as XML sitemap generation, custom and structured metadata, Google snippet previews, and various SEO tips and suggestions to help you along.
HubSpot:
HubSpot CMS's SEO tools on the other hand, are included in the package and do not require the installation of an additional plugin. The blogging interface comes with its own search engine optimization functionality, advising you on how to improve your keyword strategy, organize your content, and optimize your blog posts and landing pages for mobile devices. It is such an easy, hassle-free process that simply becomes a matter of habit whenever you create a blog post or web page.
Although HubSpot CMS makes SEO much more simple and pain-free for the layperson, it does not offer any features that WordPress lacks. For more advanced SEO functionality, WordPress comes out on top slightly, boasting a range of benefits that HubSpot users are missing.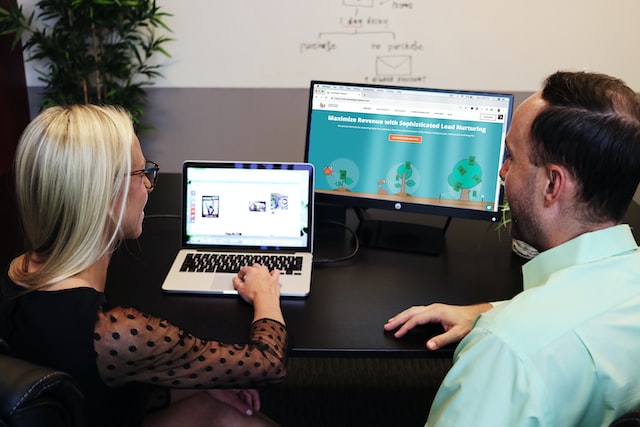 3. Extensibility
Extensibility refers to the extent to which you are able to customize and modify the system's existing features. For example, if the particular theme you have chosen for your website doesn't exactly meet your requirements, you may wish to alter the underlying code and change design elements until it suits your vision. WordPress and HubSpot CMS differ greatly in the level of extensibility marketers can enjoy.
WordPress CMS:
With WordPress themes, there are no end to the changes marketers and developers can make to their websites. There are upwards of 58,000 WordPress plugins on the market, all of which can be installed and used at the click of a button. These allow you to change design elements, page structures, and any other attribute you like. And if you need to add a particular feature that no plugin will deliver, there are thousands of WordPress developers out there you can hire to do the job.
HubSpot CMS:
Since HubSpot CMS is proprietary software, it must be used in a particular way. This means that there is only a prescribed selection of website styles, themes, and features available to you. HubSpot owns not only their software, but your hosted website too, which means you are limited in the amount of change and additions you can make. And because HubSpot CMS uses its own templating language, HubL, you will need to find a specialist HubSpot developer if you wish to add any unique features.
In terms of extensibility, WordPress with its many thousands of plugins and well-known open-source codebase is the clear victor.
4. Page Building
One of the most important steps in creating your brand website is building the individual pages. These pages make up the overall structure of your site, and provide an interface to represent your products, services, and other business information. It is essentially that these pages are easy to navigate, comprehensible, and appealing to your target audience. It is very easy for an inexperienced web designer to get it wrong. Fortunately, both WordPress and HubSpot CMS offer tools within the theme designed to make the process as easy as possible.
WordPress:
WordPress themes offers by far the most scope when it comes to building web pages. As a highly extensible system, there are so many options for additional themes and plugins that allow you to create a website to your exact specifications. The default page builder within Wordpress (Gutenberg) is really not loved by the WP community, so you would be better off with one of the other popular ones, such as:
Elementor
Avada / Fusion Builder
Beaver Builder
Cornerstone
Divi
Thrive Architect
WPBakery
The tools involved are a lot more specialist and complicated than those of HubSpot, so unless you are happy with the Wordpress theme you have chosen and it's builder, you will need to hire a developer to customize your pages for you. This is a sample of a Fusion Builder in Wordpress that offers a drag & drop option: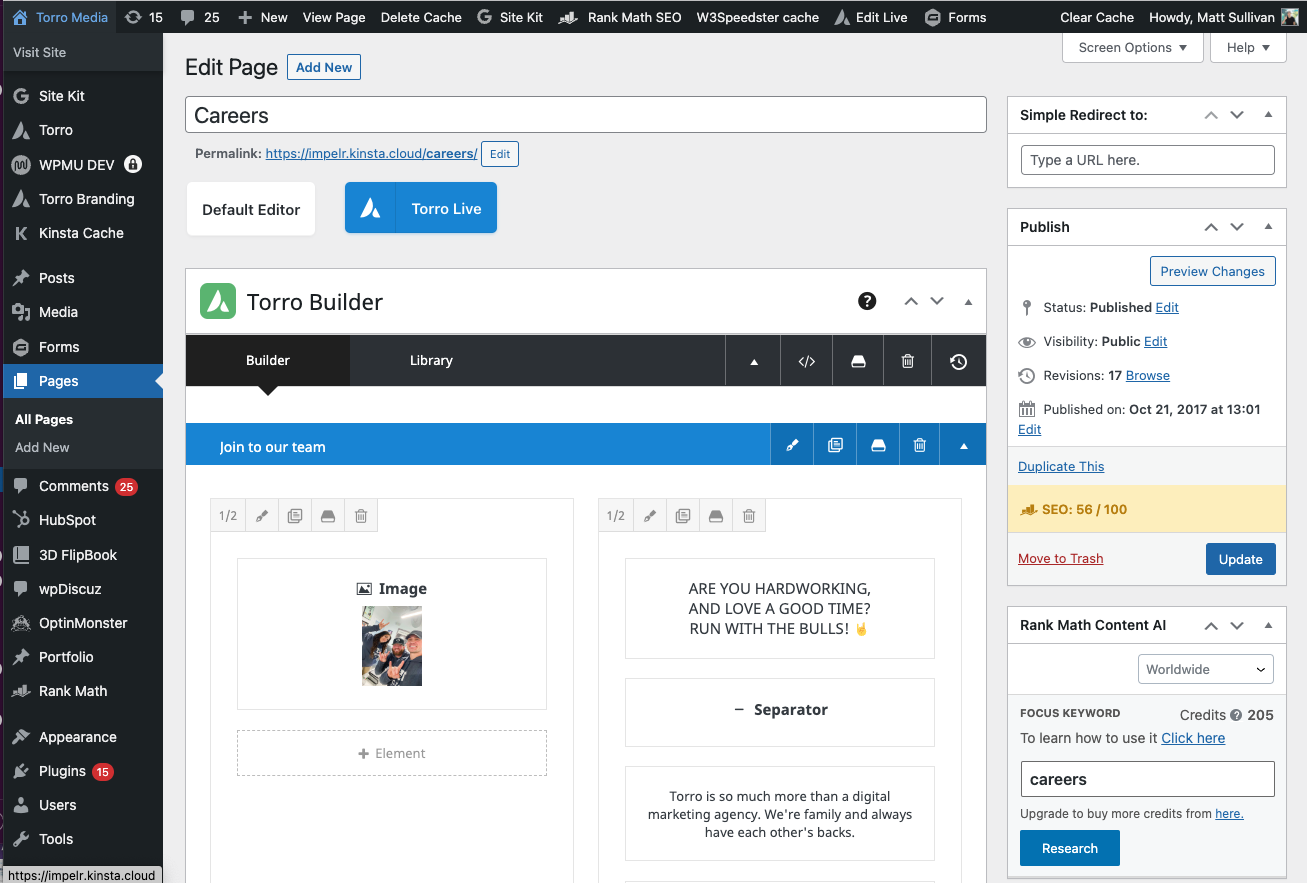 HubSpot CMS:
The best thing about HubSpot's page building functionality is that it appeals to users of all abilities. Even if you don't have a great deal of confidence with web design, you can still create an attractive web page using the simple page building editor. This involves a drag-and-drop style interface, allowing you to easily create a range of design modules including menus, buttons, sliders, blog posts, and headers. This is great for simple additions and changes, but for anything more complicated you will need to develop it yourself using HubSpot's own HubL language.
The HubSpot Builder is much cleaner than any Wordpress page builders we have ever used. It slightly resembles Elementor, but it much easier to navigate and edit.
In summary, WordPress allows web developers to achieve so much more in terms of the complexity and customization of your site. HubSpot's page building module is much more user-friendly and cleaner, so is ideal for many (including Torro Media) but it does not even come close to the range and scope of the options supplied by WordPress. If you want less options and a more uniform way of editing, we'd recommend HubSpot CMS.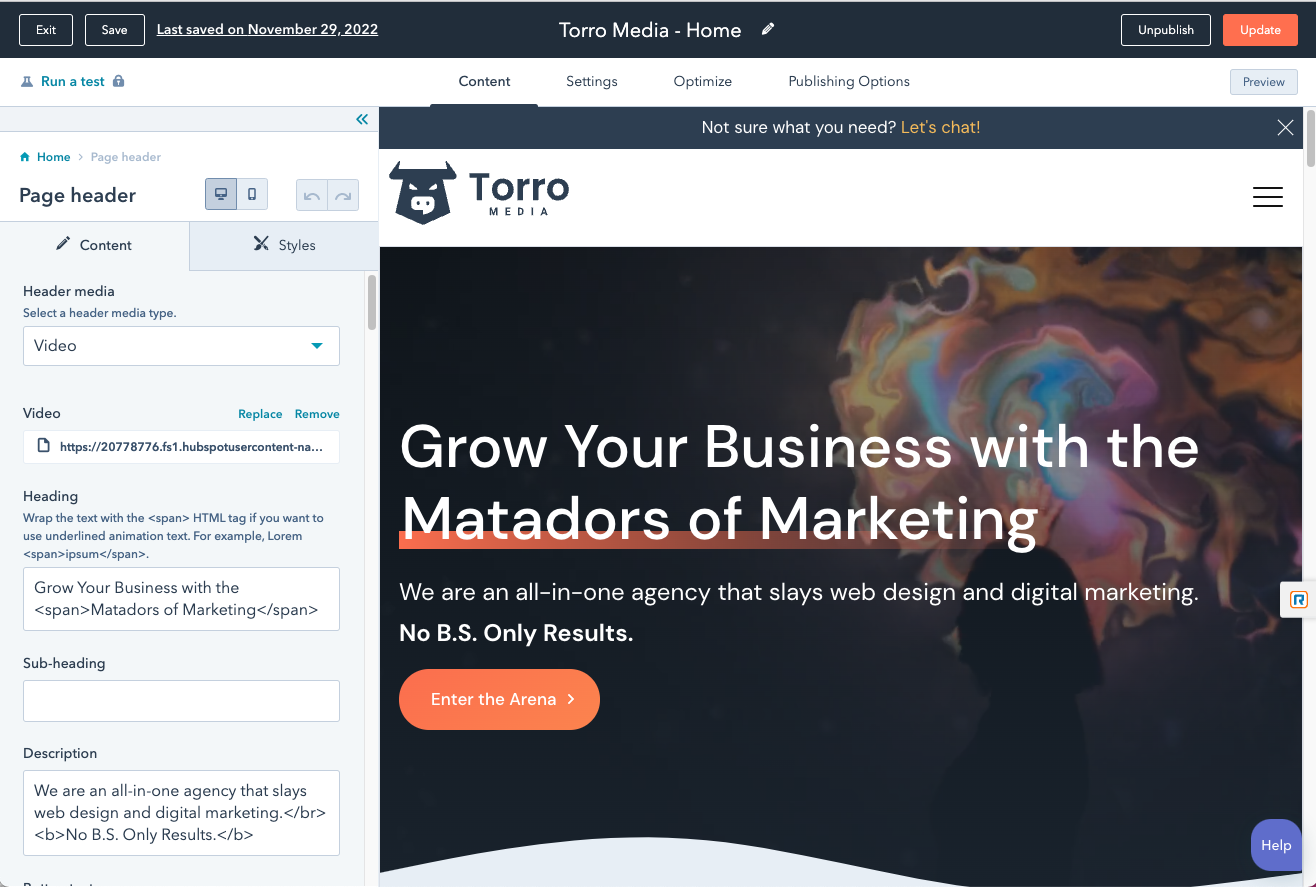 5. Blogging
Blogging is one of the key facets of inbound marketing. A regular output of quality content will help to drive traffic and raise brand awareness, while also engaging your target audience who are more likely to become customers as a result. The content management systems offered by HubSpot and WordPress both boast excellent blogging functionality.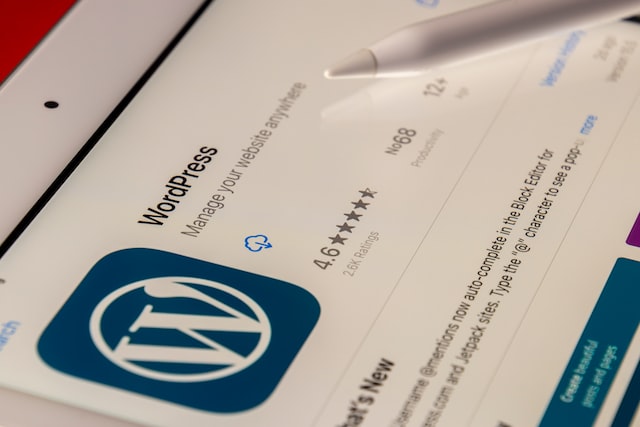 WordPress:
WordPress originated as a dedicated blogging platform before branching out, so it is understandably the industry leader when it comes to content creation capabilities. It offers users a simple, no-frills blogging interface that makes it easy to write, edit, format, and schedule posts. The platform uses the Gutenberg content editor, with its handy what-you-see-is-what-you-get editor. The best thing about the platform is that it is limitless extensible, meaning developers can reconfigure the blog editor layout and functionality in any way they wish, as opposed to HubSpot's more stringent capacity.
HubSpot:
Like many of its other features, the HubSpot CMS blogging interface is incredibly simple and easy to use. Even the most cursory user can write, format, and schedule posts without any advanced knowledge, and the accompanying SEO function makes your content marketing a breeze. The downside however, is that HubSpot's lack of extensibility means you are restricted to blogging in the way that HubSpot wants you to. For the vast majority of businesses, this won't be a problem, and the ease of use is a huge draw. But if you have more specialist requirements, WordPress may be the answer. That being said, HubSpot is focused on best practices with their interface that less can be more.
HubSpot CMS won't let you publish an article for a blog without the essential requirements for a well-optimized page for search engines, whereas Wordpress will let you publish anything at anytime. It's those kind of restrictions in HubSpot CMS that can make it so valuable as the perfect checklist to make sure you're putting out the best content possible.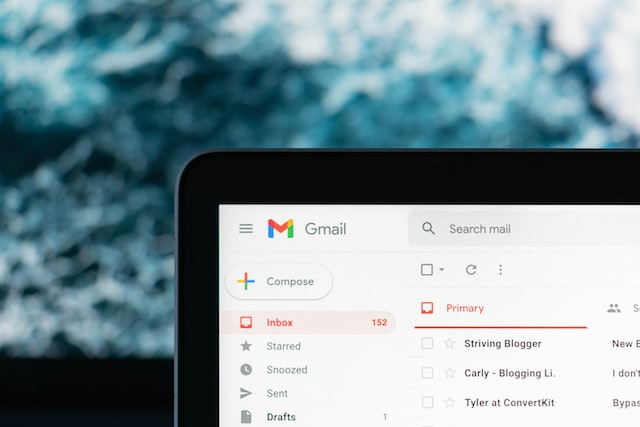 7. Email Marketing
Inbound marketing is the future, and the days of cold-calling your leads or sending a mass of spam emails to potential customers are long gone. But that doesn't mean there's not still a place for email marketing in your digital strategy. Email automation, when done right, is a great way to nurture your engaged leads and keep your current customers updated on your products and services. Both WordPress and HubSpot have dedicated email marketing options for businesses to use.
WordPress:
Although WordPress doesn't come with its own email marketing functionality, it can be integrated with a range of plugins that allow you to store and communicate with targeted email lists. Using an email automation plugin such as Mailchimp, you can create customized email campaigns for your different audiences, while tracking open and subscribe rates for analytics purposes. You will need to import your contact lists directly into the plugin or 3rd part website, which can have implications for data security as well as being more time-consuming than an all-in-one platform.
The 3rd party emailing tools do cost money based on subscription count and number of contacts, so it's something that will need to be paid for with Wordpress in addition to hosting.
HubSpot:
Email marketing is one area where HubSpot really shines. Your contact database is built into the system, making it easy to track your subscribers and target each campaign to specific personas or groups. This database will also keep record of every single action each member has taken across your website from page views to button clicks to content downloads.
HubSpot's email marketing interface is a clear winner in this case, as you can gain a great deal more insight into your lists while managing everything from a single platform.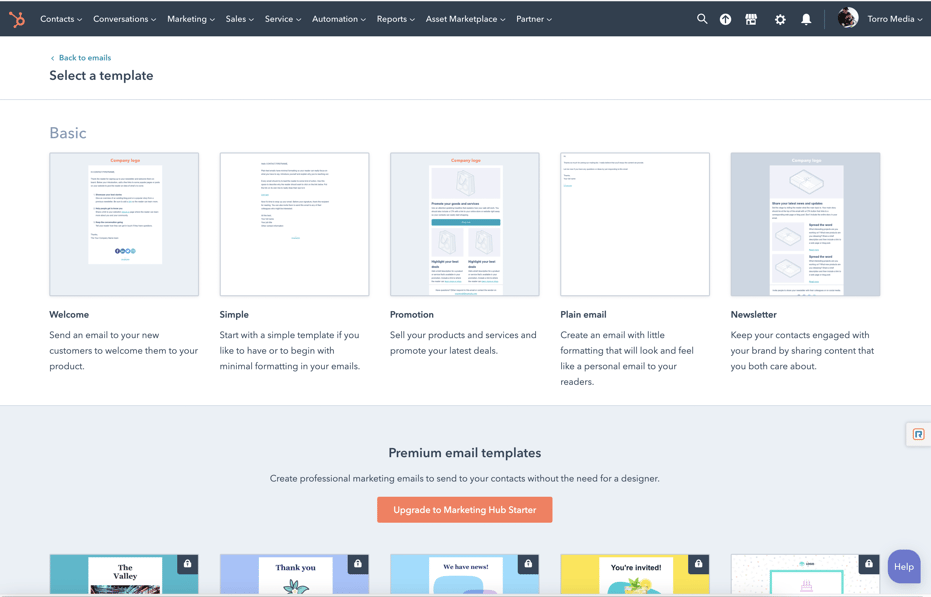 7. Analytics & Data
Analytics are extremely useful for tracking your marketing performance, identifying areas of success as well as opportunities for improvement. Analyzing your data can tell you a huge amount about your web visitors, from their demographics to their behaviors on your site. You can see which pages trigger bounces, or the percentage of shoppers who abandon their carts. There is almost nothing you can't learn from extensive analytics. But their usefulness all depends on the features of the platform you are using.
WordPress:
Wordpress doesn't have any inbuilt analytics software of its own, but that doesn't mean you can't track and monitor your site data. There are a number of highly effective third-party analytics plugins, such as JetPack, Monster Analytics and Google Analytics, that do a great job. Plus, if you wish to use a WordPress CMS with a HubSpot marketing package, you can integrate HubSpot's excellent analytics tracking into your site. Most marketers will install Google Analytics as a default and only use this.
HubSpot:
HubSpot's analytics functionality is unsurpassed, working across the entire scope of your marketing activity from your website to your emails and social media accounts. You can analyze in detail how each of your pages are performing in terms of a range of factors such as keywords, views, and inbound links. You can also determine which traffic sources are bringing in the most leads and customers.
HubSpot CMS is hands down the winner with analytics and data. It's one of the main reasons we moved from Wordpress to Hubspot so that we could have better insights across all of our channels and efforts.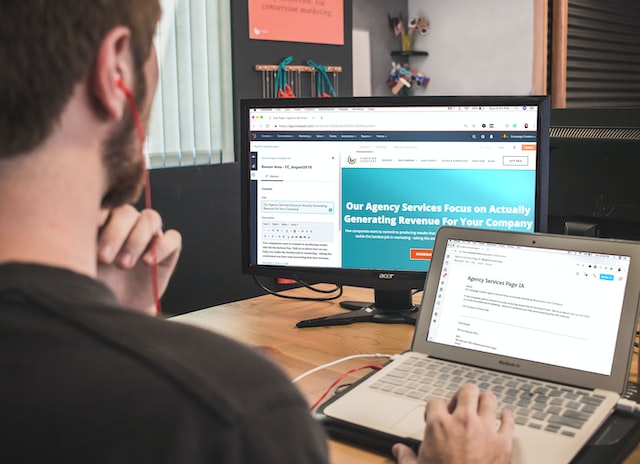 8. Ease of use
Simplicity is an underrated factor in a content management system. Many marketers are not adept at complicated web design or editing code, so an intuitive, user-friendly interface should be high up on your list of priorities. An unnecessarily complicated system will not only be time-consuming to learn and unwieldy to use, but it could also result in costly mistakes throughout your content.
WordPress:
WordPress has been around for a long time, so it's safe to say it has become a finely-tuned system that responds to the needs and demands of its users. It is a simple platform with an easy-to-understand interface that explains why it has become such a popular tool over the years. There are numerous themes and plugins that allow users to fulfill almost any function they require, and they can be implemented by merely clicking the "Install" and "Activate" buttons. It also offers a huge array of learning resources and training guides to help new users get to grips with the system. If you want to do anything more than basic customization, you will need a cursory grasp of CSS and HTML, but it's easy enough to learn and is not essential for running and maintaining an effective website.
You'll want to be careful though not to install too many plugins as the right sidebar in Wordpress can get very overwhelmed and turn into a spider web of options quickly.
HubSpot:
HubSpot CMS, on the other hand, was designed with complete simplicity in mind. It is remarkably simple to use, even for a complete beginner. Every single interface is clearly laid out with helpful instructions to refer to along the way. No knowledge of code is required, unless extensive customization is required. Unlike WordPress, users don't need any plugins or third-party support to create and manage their websites either. There is also first-class support and training for HubSpot customers to help them get to grips with the software.

9. Access to data
Having access to your website's data is important, as this information can be useful for a variety of reasons. If you want to make manual backups or transfer your website from one content management system to another, you will need to be able to export and re-upload your data.
WordPress:
WordPress is open source software, which means that anyone can use it, add to it, or distribute it. For this reason, if you're a WordPress user you can enjoy unrestricted access to the entirety of your website's data, whether it's page hits, comments, or custom fields you have created.
HubSpot:
Fortunately HubSpot CMS has precisely the same approach when it comes to data access. HubSpot CMS customers are able to view and export all of their website data. Since HubSpot provides an all-in-one marketing package, the data you are able to export is arguably much more extensive and useful, as it encompasses the accompanying CRM software as well.
In regards to data access, WordPress and HubSpot arrive at a tie, as they both provide convenient and unrestricted access to website data.
10. Themes
When designing and building your website, you will need to create an appropriate theme and style. This will determine the look and feel of your website, creating a strong first impression for your customers and showcasing your brand. Every single design element of a site and its individual pages is customizable, from the colors to the font to the layout of each page. A strong and appealing design will keep customers engaged and help to nurture them towards a conversion. Whereas on the other hand, a messy layout or unattractive colors will create a negative experience and fail to establish a meaningful connection.
HubSpot and WordPress offer users a variety of customizable themes with a range of perks and unique features.
WordPress:
There are many tens of thousands of themes available on the WordPress marketplace, designed to create an attractive and uniform look and feel across your entire site. All of these options are easily customizable without the requirement to know any code. This means that even web design newbies can get started building and designing their sites to their exact specifications. For more advanced customization, anything is possible if you hire a WordPress developer to make changes to the underlying code. The options are almost limitless.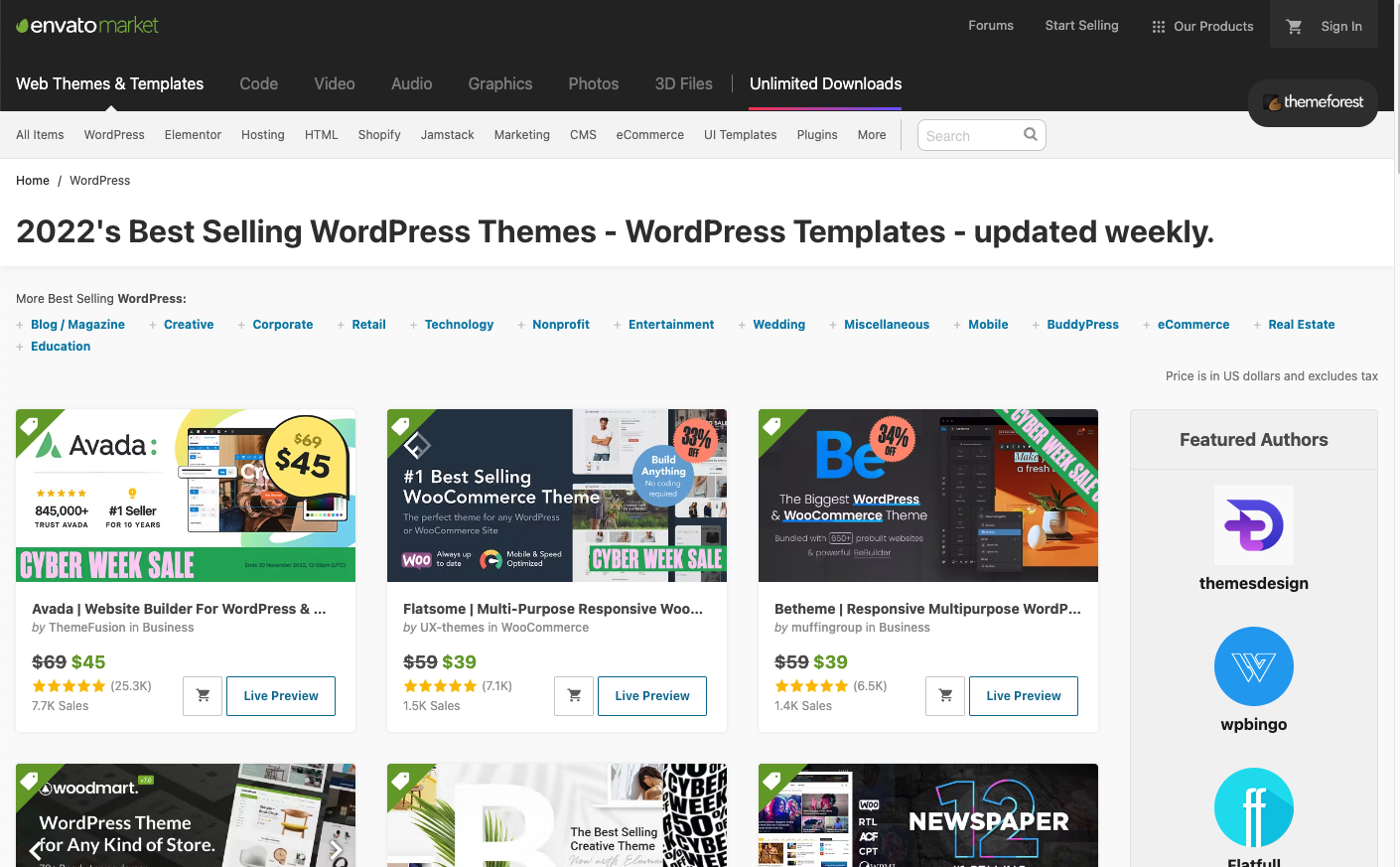 HubSpot:
HubSpot CMS is far more limited when it comes to styling options. The marketplace does have thousands of templates, but many of these are for individual elements like emails or landing pages. If you want a theme that encapsulates every page of your website and beyond, you will need a template package, of which there are only a few hundred available. There's a good chance you might find something here that meets your needs, but considering the sheer number of HubSpot customers across the world, there's a good chance your site will end up looking remarkably similar to others out there. Again, advanced customization is possible but only at the code level, meaning you will have to find a developer who knows how to work with HubL.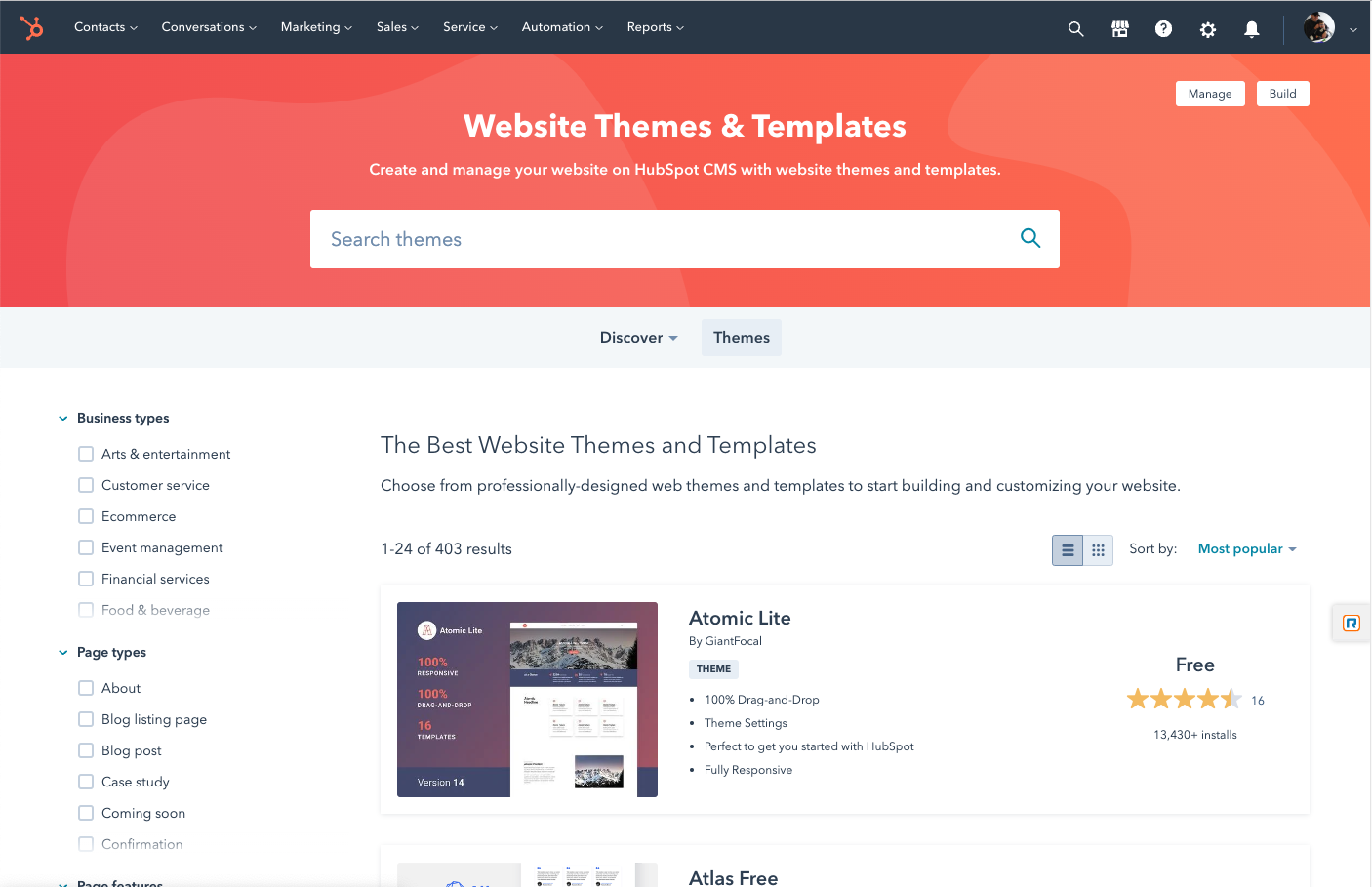 For the sheer amount of choice and ability to customize your own themes, WordPress stands out in this area, however we've found more helpful themes in HubSpot as far as the best UX practices and modern design.
11. Security
One of the most important considerations when choosing a content management system is the level of security it provides. Particularly if you are working with large quantities of customer data or sensitive information. Pick the wrong solution and you may find your website and network exposed and vulnerable.
WordPress:
Since WordPress does not actually host the website, users must select their own third-party web host. This puts much of the security responsibility in your hands, as you must choose a provider that is reliable and trustworthy. Fortunately, there are many great options out there, so you're in safe hands as long as you pick a reputable host. But because there are so many themes and plugins available, many of these don't get updated regularly, meaning you may not be experiencing the highest level of protection possible.
HubSpot:
HubSpot CMS is a highly secure system that is constantly rolling out upgrades to improve user experience and protection for its customers. SSL certification and other security measures are built-in, and unlike WordPress which is an open source platform, HubSpot is closed so external access is restricted. The system also includes regular monitoring of unexpected issues in order to resolve any potential security weaknesses swiftly and efficiently.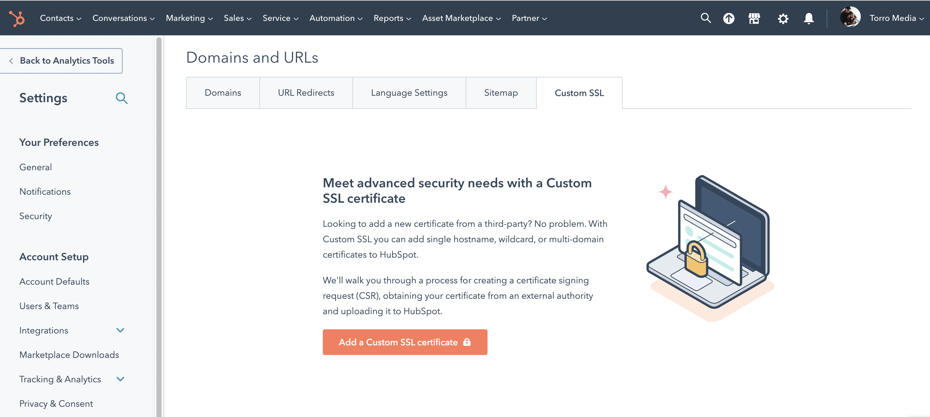 12. Training and support
When you've just implemented a new CMS in your organization, you want to know that help will be available when you need it. If you experience technical issues with the software, or just need assistance in getting to grips with the functionality, all the best CMS packages come with dedicated training and support included. WordPress and HubSpot are no exception, offering a range of options to help their users with the technical aspects of their marketing.
WordPress:
As expected from such a popular and established CMS, WordPress has a dedicated support team on hand to help users with their technical issues. Support is available via email, telephone help desk, or instant messaging. Training for new users is available, but only in the form of documentation and guides.
There's also limitless resources on YouTube and Google to help resolve any Wordpress problem for most themes.
HubSpot:
HubSpot CMS also provides dedicated 24/7 support, but they take this one step further by providing their customers with ongoing training and support. When you sign up with HubSpot CMS, you will benefit from a huge array of in-person training modules, webinars, training manuals, instructional videos and tutorials to guide you through everything from setup to implementation. When it comes to supporting their users, HubSpot comes out on top.
Conclusion: Which CMS is the Best?
In the ultimate face off between HubSpot and WordPress, there is no clear cut winner. The best choice depends on exactly what you need from a content management system. Although HubSpot CMS Hub comes out on top in the majority of areas, WordPress still has its place for those marketers with simple needs who don't have the budget to invest in their digital marketing or the need for an all-in-one package such as HubSpot.
HubSpot CMS trumps WordPress in areas such as security, ease-of-use, customer support, analytics, and email marketing, while WordPress is a stronger option if you're looking for extensibility and a wider variety of themes and plugins.
In summary, the decision entirely depends on your organization's precise needs and resources. Get in touch now to discuss your requirements and help you make the choice that is right for your business.