ChatGPT, the conversation-focused AI bot, has been taking the world by storm, with over 100 million users experiencing its capabilities in tasks like web search and essay writing. Though its core functionality is impressive, its interface could use some improvements.

Enter third-party browser extensions, which can make ChatGPT more accessible from other websites, add valuable features like chat exporting, and improve prompt suggestions. These extensions are compatible with the latest Google Chrome and Microsoft Edge versions, unless specified otherwise.
1. Merlin
Merlin brings ChatGPT directly to your browser, assisting in tasks like replying to social media posts or summarizing lengthy text. Activated by a keyboard shortcut (Ctrl+M on Windows, Cmd+M on macOS), Merlin allows users to access ChatGPT quickly, but is limited to 31 requests per day.
2. ChatGPT for Google
ChatGPT for Google integrates ChatGPT results alongside standard Google search results. Be sure to be signed into your ChatGPT account for the responses to appear. You can also launch separate ChatGPT conversations from the integrated box or set the extension to run manually.
Key Features:
Supports all popular search engines
Supports official OpenAI API (GPT-3)
Access ChatGPT from extension popup
Markdown rendering
Code highlights
Dark mode
Feedback to improve ChatGPT
Custom trigger mode
Copy to clipboard
3. Enhanced ChatGPT
Enhanced ChatGPT adds useful features to the basic ChatGPT interface, including chat exporting in Markdown format and prompt tools for various tasks. The Export Chat option is available in the lower left corner after setting up the add-on.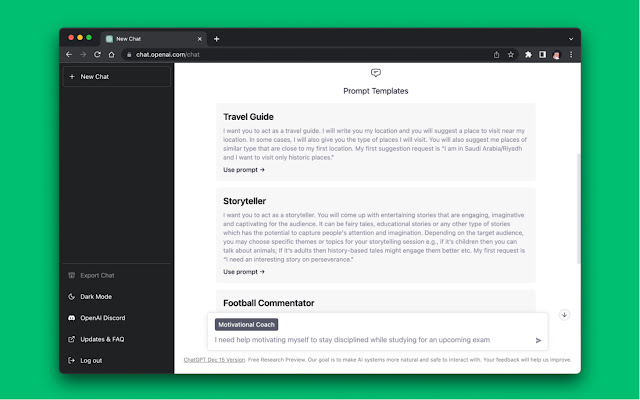 4. WritingMate
WritingMate is perfect for using ChatGPT in web-based writing tasks, from emails to social media posts. Activated by a keyboard shortcut or a floating icon, WritingMate includes helpful prompts, and the option to upgrade to a premium account for increased usage.

5. WebChatGPT
Available for Chrome, Edge, and Firefox, WebChatGPT combines traditional web search results with AI-generated responses in the ChatGPT interface. The effectiveness of this approach varies depending on the query.

6. Promptheus
Promptheus allows users to interact with ChatGPT using their voice, offering a new way to engage with AI. Press and hold the space bar within the ChatGPT interface to begin speaking. Additional settings, like automatic prompt sending, are also available.

7. ShareGPT: Share ChatGPT Conversations
Designed for Chrome, Edge, and Firefox, ShareGPT addresses the need for exporting content from the ChatGPT interface and share with others. Once installed, new export buttons appear below the prompt box, enabling users to save chats as images, PDFs, or generate shareable links.
As a Boston SEO Agency, we're always exploring tools like this to improve overall performance and results! Like Chrome extensions, there are website add-ons and plugins that are also helpful whether using Wordpress or Hubspot CMS!